Home
>
Aquatic Species
>
Thomas More Biology Field Station: More Than 50 Years of Great River Research
Thomas More Biology Field Station: More Than 50 Years of Great River Research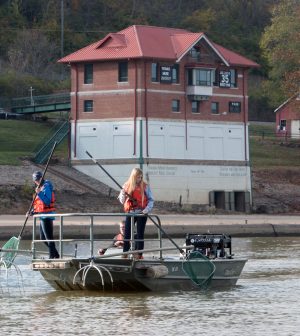 Haley Jackson and Teresa Urban use Smith-Root electrofishing equipment at Thomas More. (Credit: Bruce Crippen)
In 2017, Thomas More Biology Field Station, a member of the Organization of Biological Field Stations (OBFS), celebrated 50 years of river research. Christopher Lorentz, Professor of Biological Sciences at Thomas More University and Director of the Thomas More Biology Field Station, has a milestone of his own to celebrate. "As of 2018, I've been involved with the Field Station for 25 years," says Lorentz. "I was a professor at Thomas More and a caretaker of the Field Station for 5 years before becoming the Director of the Field Station for the 20 years after that," he recalls. "In the time I've been here, we have seen a positive shift in many areas. We've seen measurable improvement in the water quality here, increased interest in the river and a greater acknowledgment from the public about the importance of the Ohio River. The Clean Water Act of 1972 has played an important role in the improvements we've seen over time."
The Thomas More Biology Field Station is located on the shore of the Ohio River, one of the first U.S. commerce routes. It is approximately 30 minutes away from Thomas More's main campus. "We cooperate with greater Cincinnati and northern Kentucky waterworks. We are upstream of Cincinnati and Kentucky, so we act as an early warning system for the drinking water aspects of the river," Lorentz explains. Federal, state and local authorities work with the Field Station to monitor and gradually improve water quality in the Ohio River. These efforts involve regular staff and Thomas More students.
"Biomonitoring and assessing the river is a major research focus for us," Lorentz says. "Monitoring for blue-green algae and Harmful Algal Blooms (HAB) is also one of our most important goals. The last major research focus is conservation of aquatic organisms, a big one for us being freshwater mussels."
Eastern hellbenders, the largest salamander in the eastern U.S., is also a species of interest at Thomas More BFS. Eastern hellbenders are a protected species that the BFS raises, in hopes to ultimately increase their numbers in the wild. The giant salamander lays clutches of eggs that become larvae. They are raised at Thomas More for two or three years, and during this time the hellbenders need high quality, clear water streams. Thomas More BFS works to provide pristine habitat for the hellbenders during this vulnerable time. Maturing at six to eight years, they can live up to twenty-five years or longer and grow up to thirty inches.
"We have a 24/7 flow of river water into our labs," says Lorentz. "The river water also brings in plankton for analysis and to feed our freshwater mussels growing in our propagation tanks. We also have data sondes that give us water chemistry information for constant monitoring. Fondriest provided us with an applet which allows our website to provide real-time monitoring data." Monitoring equipment used at the Thomas More BFS includes a YSI EcoSense 9500 photometer in the lab; two data sondes, YSI 6920 and YSI 6600, in the two constant flow river tanks and several YSI Pro Plus units used in the field. Thomas More BFS also uses stream velocity meters and flow meters. "While it would be great to have a data buoy outside, it would be difficult to use with the velocities we have," Lorentz notes. "It would also be problematic to anchor."
From May to October, a wireless camera system mounted on the side of the river, charged via solar panel, takes pictures of the river every 30 minutes. Lorentz credits Mike Waters of Northern Kentucky University for the development of the camera system. Frequent pictures help monitor the formation of HABs. "We can also look at the ratio of blue-green algae to other algae," says Lorentz. "Early detection is important." Plankton are also gathered with nets and examined under a microscope. YSI Pro Plus units are used to gather temperature, conductivity and dissolved oxygen data on the river water outdoors. "We would like to get a YSI ProDSS Total Algae-Phycocyanin (TAL-PC) sensor so we can better monitor blue-green algae in the river," Lorentz mentions. "We're hoping to add one later in the year."
In his 25 years at Thomas More BFS, Lorentz has seen more and more appreciation for the Ohio River by the general public. "When HAB shut down the water in Toledo and when Lake Erie had issues in the past few years, people have become more aware of how precious our Ohio water supply is and how it needs our protection," he says. "Environmental literacy has been raised."
The formation of the Ohio River Basin Alliance in 2009 has been another sign of the changing attitude of the public towards river health. "It's a testament to the fact that people are acknowledging how important the Ohio River is," says Lorentz. The non-profit group is comprised of government, academic and non-profit business members, as well as members of the general public. Lorentz is on the group's steering committee, and also is active in ORSANCO and the Banklick Creek Watershed Group.
Thomas More BFS has also worked to do its part to raise awareness of the public to the importance of clean water and river health.  Recently the University has invested in the Field Station with a new STEM Outreach Center and two new staff: lab technician Michael Doust and STEM Outreach Coordinator Emily Pickett.   "Alongside our research, we do a substantial amount of K-12 outreach to local schools. In addition, we work with local watershed groups, like those for Licking and Banklick Rivers. We also would like to do more citizen science activities on the Ohio River and provide local people with YSI Pro Plus units, nets and backpack electrofishing equipment so they could help us gather more river data," Lorentz says.
Having provided high-quality river research to the region for over 50 years, coupled with STEM outreach to the public, Thomas More BFS researchers seem poised to tackle the next 50.
Top image: Haley Jackson and Teresa Urban use Smith-Root electrofishing equipment at Thomas More Biology Field Station. (Credit: Bruce Crippen)
About Lori Balster
Growing up near a woods, Lori has always enjoyed the outdoors. Lori is a writer and consultant based in Dayton, Ohio. Lori has also worked at Wright-Patterson AFB as a research chemist.