NexSens EXO Sonde Bottom Platforms
The NexSens EXO sonde bottom platforms offer a turnkey solution for bottom deploying a YSI EXO multi-parameter water quality sonde.
Features
Integrated mooring clamp with hinged pin sized specifically for EXO sondes
Cage can be oriented with sensors upward or downward looking
Included float with 18 lb. buoyancy helps to keep platform upright
Fondriest Exclusives
Expedited repair and warranty service
Lifetime technical support
(1) EXO sonde cage w/ accessories
(1) 3/4-10 Threaded rod assembly
(1) Trawl float w/ 18.5lb. Buoyancy
(1) 3/4" Slotted hex nut (Castle nut)
(2) 3/4" Flat washers
(2) 1/2" Shackles
(1) 1/2" Galvanized chain (Customized length)
(1) 35lb. Pyramid anchor
(1) Installation guide
Questions & Answers
Are mooring items needed in addition to the float?
It is generally recommended to add weight to the bottom ring for extra security.
Does the platform have the ability to be recognized above water? Like a marker buoy?
Yes, a mooring line with a marker buoy can be attached to alert recreators that monitoring equipment is below.
Can a data logger be used with this platform?
The EXO water quality sondes have an integrated data logger with battery pack for unattended monitoring with periodic data upload. If real-time data is required, we recommend cabling the sonde to a surface CB-Series data buoy with wireless transmitter.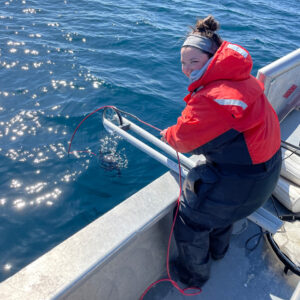 From crystal clear alpine lakes to muddy rivers and boggy swamps, water transparency is an easily observable water quality parameter to anyone who takes a few moments to peer into the (sometimes) murky depths. Water transparency varies dramatically based on the location of bodies of water among different watershed environments, but it can also change quickly due to a variety of internal and external factors. 
 
 At Miami University (OH), the Global Change Limnology Lab explores the many ways that water transparency impacts aquatic ecosystems. Operational for nearly 20 years, the lab trains undergraduate and graduate students and has conducted work from the midwest Great Lakes to Alaska, South America and New Zealand. 
 
 The Global Change Limnology Lab, headed by Dr.
Read More