SonTek RiverSurveyor M9 Acoustic Doppler Profiler
The RiverSurveyor M9 is a river discharge measurement system that is small, portable, and easy to use.
Features
Highly accurate measurements from 0.06m to 40m depths
Vertical acoustic beam for superior, highly accurate channel definition
All discharge computations performed internally - no lost data from communication loss
Fondriest Exclusives
Expedited repair and warranty service
Lifetime technical support
The RiverSurveyor M9 is a river discharge measurement system without the traditional limitations. Small, portable, and easy to use, the patented and award-winning RiverSurveyor measures in extreme flood or drought situations within a single instrument, and without changing user settings. The results speak for themselves - the RiverSurveyor M9 has revolutionized the way discharge is measured in rivers and canals.

Multiple acoustic frequencies with SmartPulseHD make for the most robust and continuous shallow-to-deep measurements ever and an array of four deterministic microcontrollers expertly apportion the proper acoustics, pulse scheme, and cell size allow users to focus on the measurement - not the setup. The system even has a vertical beam for accurate channel definition and it's all designed to work intuitively. Slow to fast, shallow to deep, the RiverSurveyor M9 handles it all on the fly.

The RiverSurvery M9 will exceed your expectations during and after the measurement with the RiverSurveyor Live! software suite for both PC and mobile platforms. All programs take full advantage of SmartPulseHD and the intelligent software ensures no loss of data during telemetry dropouts, with multi-language support available. Easily switch between computer or mobile devices during mid-measurement. Several quality indicators and statistics with selectable graphics provide instant feedback on data collection.
Specification

RiverSurveyor M9

Profiling Range — Distance

0.06 to 40m
Profiling Range — Velocity
±20 m/s
Velocity — Accuracy
±0.25% of measured velocity
±0.2cm/s
Velocity — Resolution
0.001 m/s
Number of Cells
Up to 128
Cell Size
0.02 to 4m
Transducer Configuration
Nine (9) Transducers
 
Dual 4-beam 3.0 MHz/1.0 MHz
Janus 25° Slant Angle
 
0.5 MHz Vertical Beam Echosounder
Depth — Range
0.20 to 80m
Depth — Accuracy
1%
Depth — Resolution
0.001 m
Discharge Measurement Range — Bottom-Track
0.3 to 40m
Discharge Measurement Range — RTK GPS
0.3 to 80 m
Discharge Measurement — Computations
Internal
M9 acoustic Doppler current profiler
Power supply
Shipping case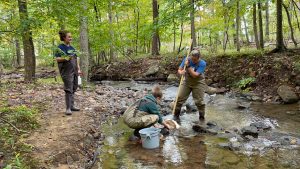 The Chesapeake Bay is enormous: the Bay and its tidal tributaries have 11,684 miles of shoreline—more than the entire U.S. west coast. It is the largest of more than 100 estuaries in the United States and the third largest in the world. The Bay itself is about 200 miles long, stretching from Havre de Grace, Maryland, to Virginia Beach, Virginia. 
 
But the Chesapeake Bay isn't just enormous--it's enormously important. The Chesapeake Bay Program reports that its watershed covers about 64,000 square miles and is home to more than 18 million people, 10 million of which live along or near the Bay's shores.
Read More