Spectrum WatchDog 1000 Series Irrigation Stations
Affordably monitor, compare and evaluate soil moisture levels from two, three, or four user-defined soil depths with the 1000 Series Irrigation Stations.
Features
Save when purchasing as an Irrigation Station
Includes WatchDog Station and WaterScout Sensors with 20 ft. cables
Stations include the protective sliding enclosure
Fondriest Exclusives
Free ground shipping
Expedited repair and warranty service
Lifetime technical support
Micro Stations are the cost-effective choice for recording environmental conditions over a period of time. Whether it's weather or soil moisture monitoring, the WatchDog 1000 Series Micro Station will deliver timely, accurate data. The LCD display confirms station operation and provides current sensor readings. The stations are customizable with up to four unique external plug-in sensors. Change monitoring parameters from one season to the next, simply by connecting a different sensor. Options include a water resistant Sliding Enclosure and a Waterproof Enclosure to protect the Micro Station from the elements.
Internal sensors can include temperature and humidy
With up to 4 external sensor ports, you choose the sensors you need
LCD displays current sensor readings and battery level
Select measurement intervals from 1 to 60 minutes
Log 10,584 intervals (220 days at 30 minute intervals), 8,064 intervals with virtual channels enabled (for SMEC 300)
Data is stored in fail-safe non-volatile memory
Water-resistant case
12-month battery life (CR2450, included)
Transfer data with a direct-connect cable or Data Shuttle
Requires SpecWare 9 Basic or Pro software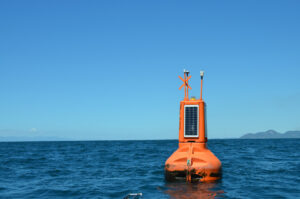 Lake Malawi (also known as Lake Nyasa and Lake Niassa) doubles as a Rift Valley Lake and one of the seven African Great Lakes. Due to its unique biodiversity, it's a great place to conduct limnological studies. Harvey Bootsma is a professor for the School of Freshwater Sciences at the University of Wisconsin-Milwaukee and has had an interest in limnology ever since he was a kid. Bootsma fondly recalls summer vacations to Georgian Bay, Ontario, "I probably spent as much time in the water as I did out of it." He continues,"I remember telling myself 'I'm going to get a job where I can stay here all the time.'" While Harvey didn't end up working on Georgian Bay, he was offered a job working on Lake Malawi. He continued working there while completing his Ph.D.
Read More