YSI Pro1030 pH & Conductivity Meter
The YSI Pro1030 provides everything required in a handheld instrument to measure (sensors sold separately) pH or ORP, temperature, conductivity, specific conductance, salinity and total dissolved solids (TDS).
Features
Built-in conductivity cell with user-replaceable pH or ORP sensors (sold separately)
Smart calibration routine allows easy calibrations with the press of a button
Graphic backlit display with 50 dataset storage
Fondriest Exclusives
Free ground shipping
Expedited repair and warranty service
Lifetime technical support
Overview
The YSI Pro 1030 features user-replaceable sensors (pH and ORP), cables, and the convenient calibration routine feature make the YSI Pro 1030 user-friendly. The feature set of the Pro1030 results in a low total cost of ownership over the life of the product and proves that it is smarter, tougher, and more versatile.

Durable
Mil-spec (military spec) connectors, IP67 waterproof and rubber over-molded case, and 1-meter drop tests ensure that the instrument remains in hand to provide years of sampling even in the harshest field conditions.

Additional Features include:
A smart calibration routine remembers previous cal values and walks through the calibration


Stores 50 data sets

Available with 1, 4, 10, 20, or 30-meter cables (4-meter and longer cables include cable management kit)

View display with polarized sunglasses on

Multiple languages include English, Spanish, French and Portuguese

Conductivity cell built-in


3-year instrument; 2-year cable warranty; 1-year pH and ORP sensor warranty
*YSI Pro1030 purchases include the instrument, manual, batteries, USB cable, and USB flash drive. Cables and probes are ordered separately.
Cable Lengths: 1- 4- 10- 20- and 30-m lengths (3.28, 13.1, 32.8, 65.6, and 98.4 ft.)
Certifications: RoHS, CE, WEEE, IP-67, 1-meter drop test
Connector: MS (military spec) waterproof with bayonet lock
Data Memory: 50 data sets
Dimensions: 8.3 cm width x 21.6 cm length x 5.6 cm depth (3.25 in x 8.5 in x 2.21 in)
Languages: English, Spanish, Portuguese, French
Power: 2 alkaline C-cells providing approximately 425 hours of battery life depending without backlight usage; low battery indicator with approximately 1 hour left
Warranty: 3-year instrument; 2-year cable; 1-year pH and ORP sensors
Waterproof: IP67 (even with the battery cover off)
Weight with Batteries: 475 grams (1.05 lbs)
Conductivity Reference Temp: Adjustable; range 15°C to 25°C
Specific Conductance Temp Comp: 0 to 4%
(1) YSI Pro1030 display
(1) Operations manual
(2) C-cell batteries
Questions & Answers
How long does the battery in the Pro1030 last?
The Pro1030 meter uses 2 alkaline C-cell batteries that provide up to 425 hours of battery life when not using the backlight feature. A low battery indicator will notify the user when there is an hour left of power.
What is the Conductivity Reference Temperature?
The Pro1030 meter features an adjustable conductivity reference temperature ranging from 15°C to 25°C.
Does the cable length affect accuracy?
Yes. The 1 and 4 meter cables are accurate within 1% or 1 uS/cm of the reading. The 10 meter and longer cables are accurate within 2% or 1 uS/cm, whichever is greater.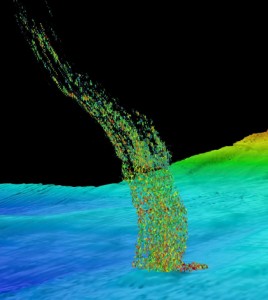 The ocean keeps secrets from surface to seafloor, and some even deeper still. A group of researchers from University of Washington discovered one such secret by accident — and their findings could change the scientific world's understanding of climate change and its relation to the Pacific. 
 
"In 2013, we were preparing for a research expedition that had nothing to do with this," said Evan Solomon, assistant professor of oceanography at UW. "We wanted to get a long-term record of bottom water temperature variability." 
 
The team gathered conductivity, temperature and depth profiles off the Washington coast. A comparison with other research quickly revealed a long-term trend of warming in the area.
Read More