YSI Pro20 Dissolved Oxygen Meter
The YSI Pro20 dissolved oxygen meter (sensors sold separately) is a rugged, user-friendly instrument used for dissolved oxygen measurement in the lab or field.
Features
One Touch Cal feature allows % mode calibration with the press of a button
IP67 waterproof, Military Spec connectors, rubber over mold, 1-meter drop test
95% response time in approximately 8 seconds with standard membrane
Fondriest Exclusives
Free ground shipping
Expedited repair and warranty service
Lifetime technical support
Overview
The YSI Pro20 is a handheld dissolved oxygen and temperature meter ideal for use in the lab or field. Utilizing YSI's durable MS (Military Spec) cable connector, the instrument can accept rugged field sensors or a self-stirring lab BOD sensor. To meet the needs of various applications, cables are bought separately in lengths from 1 to 100 meters. The included cable management kit even makes the use of long cables easy and convenient.

One Touch Cal
The Pro20 is YSI's first dissolved oxygen instrument to offer a convenient "One Touch Cal" feature for air calibrations. This unique feature, along with others like user-replaceable sensors, simplifies operation and saves time and money. The YSI Pro20 is completely waterproof, withstands 1-meter submersion and has an industry-leading 2-year cable warranty making it field-worthy.

Additional Features
3-year instrument; 2-year cable; 1-year Polarographic/6-month Galvanic sensor warranty
Field-replaceable electrodes (choose between Polarographic or Galvanic)
One-touch cal allows DO calibration with the press of a button
Stores 50 data sets to ensure data integrity
Graphic, backlit display
Standard 1- 4- 10- 20- 30- and 100-m weighted cable lengths (special order up to 100-meter
cables in 10-meter increments)
IP-67, impact-resistant, waterproof case
Easy-to-use, screw-on cap DO membranes
English, Spanish, German and French languages
Glow in the dark keypad
Quick response times
*Pro20 purchases include the instrument, manual, batteries, USB cable, and USB flash drive. Cables and probes are ordered separately.
Barometer: Built-in barometer
Cable Lengths: 1- 4- 10- 20- 30- up to 100m lengths (3.28, 13.1, 32.8, 65.6 ft.)
Certifications: RoHS, CE, WEEE, IP-67, 1-meter drop test
Connector: MS (military spec) waterproof with bayonet lock
Data Memory: 50 data sets
Dimensions: 8.3 cm width x 21.6 cm length x 5.6 cm depth (3.25 in x 8.5 in x 2.21 in)
Languages: English, Spanish, German, French
Power: 2 alkaline C-cells providing approximately 400 hours of battery life depending on backlight usage; low battery indicator
Salinity Input Range: 0-70 ppt
Warranty: 3-year instrument; 2-year cable; 1-year Polarographic sensors; 6-months Galvanic sensors
Waterproof: IP-67 (even with the battery cover off)
Weight with Batteries: 475 grams (1.05 lbs)
(1) YSI Pro20 display
(1) Operations manual
(2) C-cell batteries
Questions & Answers
Can the Pro20 interface with a PC via a Pro Plus communications saddle?
No. Connecting the Pro20 to a communications saddle may cause the device to behave erratically.
What cables are compatible with the Pro20 dissolved oxygen sensor?
The YSI Pro20 is compatible with the Pro20 cable assemblies and the ProBOD probe. The field rugged cables incorporate a temperature sensor are available in lengths of 1, 4, 10, 20, 30, and 100 meters. The cables are compatible with both the 2002 galvanic and 2003 polarographic sensors. The ProBOD probe has 1 meter cable and comes with a built in dissolved oxygen and temperature sensor.
Does this meter store my data measurements?
The Pro20 dissolved oxygen meter can store up to 50 data sets on its internal memory for later viewing.
Which electrochemical DO sensor doesn't require warm-up after powering on the meter?
The YSI Galvanic dissolved oxygen sensor requires less warm up time than the Polarographic sensor due to the fact that the probe is always considered active (charged) while the meter is powered off.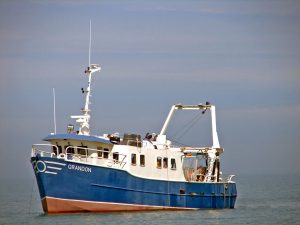 Yellow perch are a species central to the culture and economy surrounding Lake Erie. With the largest commercial fishery and a prolific sportfishing industry, Lake Erie's yellow perch are a treasured study subject for environmental scientists. Daily bag limits and other public wildlife regulations rely heavily on the work of scientists like Ann Marie Gorman, one of the Fisheries Biologists responsible for coordinating ODNR 's Central Basin Bottom Trawl Survey. 
 
 The survey, ongoing since 1990, conducts seasonal assessments of the bottom fish community in Erie. It aims to index annual recruitment and catch-at-age of yellow perch.
Read More