Spectrum WatchDog 2800 Weather Station
The WatchDog 2800 weather station includes nine external sensor channels for soil moisture, soil temperature or other sensors.
Features
Measurement interval from 1 to 60 minutes (holds 183 days of data with a 30 minute interval)
Logs data in fail-safe, non-volatile memory
10-month battery life with four AA alkaline batteries
Fondriest Exclusives
Free ground shipping
Expedited repair and warranty service
Lifetime technical support
The WatchDog 2800 Station is ideal where multiple sensor measurements are required for temperature or soil moisture data. Customize the station to your application by choosing up to eight plug-in sensors, plus one optional rainfall sensor. The 2800 Station features the same memory, power source and LCD as other WatchDog Stations, and accepts the same communication devices and sensors. Requires SpecWare Pro software.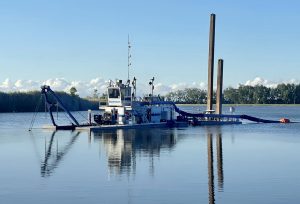 Though dredging is often painted in a negative light, dredging initiatives and projects are often conducted to improve environments, begin recovery periods for water beds contaminated with toxins, and reinvigorate ecological systems and habitats. Many of the technicians and engineers who plan and execute dredging projects are dedicated to balancing the economic benefits of dredging with protecting the environment. 
 
 Sevenson Environmental Services Inc. provides sediment remediation as one of many key services offered to help restore natural environments. Steven Shaw spent more than a decade working as an engineer on various dredging projects before finding his way to Sevenson eight years ago.
Read More