Van Essen Diver-Mate Data Download Unit
Used in combination with a Diver DXT data cable, the Diver-Mate allows users to transfer data from Diver water level loggers without bringing a laptop computer to the field site.
Features
Supplied with 16 GB memory card
Built-in battery, rechargeable through USB-C
Works seamlessly with new Diver-App
Fondriest Exclusives
Free ground shipping
Expedited repair and warranty service
Lifetime technical support
The Diver-Mate is designed for simple and fast download of Diver groundwater data logger data, increasing download efficiency while reducing data transfer errors. A Diver DXT-Cable is used for connecting it to the Diver. Equipped with Bluetooth, it offers a wealth of possibilities for forwarding data, cloud storage and assessing the status of the well. The Diver-App will enable field workers to compare real-time Diver measurements with manual measurement results for data validation. The Diver-Mate will also show the DXT Cable signal quality and the Diver data download progress if Diver and cable are working correctly.

With 16 GB non-volatile memory drive, the Diver-Mate has more than sufficient capacity to store the data of thousands of Divers.  Connect the Diver-Mate to your laptop using the supplied USB-C cable. The collected field data can easily be imported by Diver-Office for further processing. The files on the Diver-Mate can also be accessed through Windows File Explorer like any USB flash drive.
| | |
| --- | --- |
| Dimensions | 79 mm × 132 mm × 24 mm (W×L×H) |
| Weight | ~152 grams |
| Protection Classification | IP41 |
| Memory | 16 GB |
| Battery | Rechargeable Lithium Polymer |
| Battery Life | 10 days (single charge, dependent on usage) |
| Barometric Pressure Sensor | 400 to 1100 cmH2O |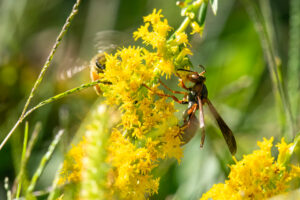 Pollinators of all shapes and sizes are vital to ecosystems around the world. From the wide array of food people eat to the diversity of life around the planet, life would be very different without them. Pollinators are organisms that help carry pollen from one plant to another, and over 350,000 species can be found worldwide, according to The California Department of Fish and Wildlife . With the strong relationship between plants and pollinators, losing either would have detrimental impacts on ecosystems. 
 
 Over millions of years, both plants and pollinators have evolved alongside each other and formed unique adaptations that allow them to work together, expediting and enhancing the process of pollination.
Read More