Van Essen Micro-Diver Water Level Loggers
The Van Essen Micro-Diver is designed to measure water pressure and temperature autonomously after being programmed to suit user needs.
Features
Compact size: 18mm diameter x 88mm length
Stores 48,000 records of time, pressure and temperature
Pre-programmed and user defined pumping tests
Fondriest Exclusives
Free ground shipping
Expedited repair and warranty service
Lifetime technical support
Overview
The Van Essen Micro-Diver is the smallest Diver capable of accurately recording groundwater levels and temperature. The Micro-Diver is specifically designed for monitoring wells or drive-points too small to accommodate larger dataloggers. In addition to its compact size, the Micro-Diver's memory capacity can store up to 48,000 measurements per parameter - almost one measurement every ten minutes for an entire year.

Compact Pressure Sensor
The Van Essen Micro-Diver is the smallest Diver with a diameter of 18 mm and a stainless steel (316 L) casing. The Micro-Diver is suitable for pipes with a diameter of at least 20 mm (0.787 in). The Diver consists of a pressure sensor, a temperature sensor and memory for storing measurements and a battery. The Diver is an autonomous datalogger that can be programmed by the user. The Diver has a completely sealed enclosure. The communication between Divers and Laptops/field devices is based on optical communication.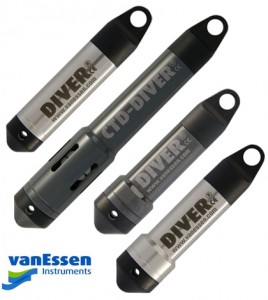 New to Fondriest Environmental's product portfolio are the Van Essen Instruments Diver loggers, which are ideal for monitoring groundwater and surface water in a variety of applications. See below for a short description of each new addition. 
 
 Van Essen CTD-Diver Water Level & Conductivity Logger 
 
If you need to monitor groundwater levels and saltwater intrusion, injected wastewater, or contamination from chemical discharges and landfill sites, the CTD-Diver is a good choice. It features a rugged, corrosion-proof ceramic housing and is equipped with a four-electrode conductivity sensor to measure electrical conductivity from 0 to 120 mS/cm. There are two options for measuring conductivity: true or specific conductivity at 25 degrees Celsius.
Read More