YSI EXO Conductivity & Temperature Sensor
The EXO conductivity & temperature sensor is a digital smart sensor featuring welded titanium construction and wet-mateable connectors.
Features
0 to 200 mS/cm measurement range
T63<2 sec response time
±0.5% of reading or 0.001 mS/cm accuracy from 0 to 100
Usually ships in 3-5 days
| Image | Part# | Product Description | Price | Stock | Order |
| --- | --- | --- | --- | --- | --- |
| | 599870 | EXO conductivity & temperature sensor | | Usually ships in 3-5 days | |
Image
Part#
Product Description
Price
Stock
Order
065270
3161 conductivity standard, 1,000 uS, 1 quart

In Stock

065272
3163 conductivity standard, 10,000 uS, 1 quart

In Stock

065274
3165 conductivity standard, 100,000 uS, 1 quart

Usually ships in 3-5 days

060907
3167 conductivity standard, 1,000 uS, 8 pints

Usually ships in 3-5 days

060911
3168 conductivity standard, 10,000 uS, 8 pints

In Stock

060660
3169 conductivity standard, 50,000 uS, 8 pints

In Stock

599867
EXO anti-fouling copper screen kit, pack of 2

In Stock

599470
EXO conductivity/temperature sensor cleaning brush, pack of 2

Usually ships in 3-5 days
The EXO combination conductivity and temperature sensor should be installed in a sonde in nearly all sonde applications. Not only will this sensor provide the most accurate and fastest response temperature data, but it will also provide the best data for the use in temperature compensation for the other EXO probes. The conductivity data is used to calculate salinity, non-linear function (nLF) conductivity, specific conductance, and total dissolved solids, and compensate for changes in density of water (as a function of temperature and salinity) in depth calculations if a depth sensor is installed.
Temperature Thermistor
The temperature sensor uses a highly stable and aged thermistor with extremely low-drift characteristics. The thermistor's resistance changes with temperature. The measured resistance is then converted to temperature using an algorithm. The temperature sensor receives a multi-point NIST traceable wet calibration and the accuracy specification of 0.01˚C is valid for expected life of the probe. No calibration or maintenance of the temperature sensor is required, but accuracy checks can be conducted.

Conductivity Electrodes
The conductivity sensor uses four internal, pure-nickel electrodes to measure solution conductance. Two of the electrodes are current driven, and two are used to measure the voltage drop. The measured voltage drop is then converted into a conductance value in milliSiemens (millimhos). To convert this value to a conductivity value in milliSiemens per cm (mS/cm), the conductance is multiplied by the cell constant that has units of reciprocal cm (cm-1). The cell constant for the conductivity cell is approximately 5.5/cm ±10%. For most applications, the cell constant is automatically determined (or confirmed) with each deployment of the system when the calibration procedure is followed.

Temperature Compensation
EXO sensors have internal thermistors for quality assurance purposes. Turbidity uses the internal thermistor for temperature compensation, while all other EXO sensors reference the C/T probe for temperature compensation. To display and log temperature, a C/T probe must be installed in an EXO sonde. Thermistor readings are logged in the sonde's raw data–viewable in KOR software–but are not included in data exported to Excel.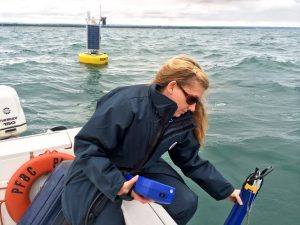 Since its population bottomed out, the federally-endangered Piping Plover in the Great Lakes has made a comeback for the ages. 
 
 A population that once measured approximately 17 pairs and rebounded, hitting 76 pairs in 2017. The same year that count was made, the plovers had also returned to Gull Point, a nesting location that hadn't been used in more than 60 years. 
 
 In an effort to understand some of the conditions that have allowed this species to return to its habitat, researchers have directed their attention toward a curious instrument for help. 
 
 A buoy that floats off the coast of Presque Isle State Park , near where Gull Point is located.
Read More