YSI EXO NitraLED UV Nitrate Sensor
Utilizing state-of-the-art UV LED technology, EXO NitraLED is an optical nitrate sensor designed for long-term, low-drift monitoring in freshwater applications.
Features
Available at a fraction of the cost of other lamp-based nitrate sensors
Built-in corrections for natural organic matter (NOM) and turbidity
Designed for use with EXO1, EXO2, EXO3, or EXO2s water quality sondes
Fondriest Exclusives
Expedited repair and warranty service
Lifetime technical support
Accuracy

± 0.1 mg/L–N or 5% of reading, w.i.g. (within 2°C)
± 0.4 mg/L–N or 5% of reading, w.i.g. (full temp range)

Depth Rating
250 m
Drift / Stability

≤ 0.2 mg/L–N

Equipment used with
EXO™
Light Source
UV LED (x2)
Lower Detection Limit

0.005 mg/L–N

Measurement Range

0-10 mg/L–N

Medium

Fresh water

Nominal Wavelengths
235 nm, 275 nm
Operating Temperature
5-35°C
Pathlength
10 mm
Precision

≤ 2% Coefficient of Variation (CV)

Response Time
T95 < 30 seconds
Sensor
Optical, absorbance
Storage Temperature
-20-80 °C
Warranty

2 years
Questions & Answers
Does the YSI EXO NitraLED measure nitrate as N (NO3-N) or nitrate plus nitrite as N (NO3+NO2-N)?
The sensor reads NO3-N (Nitrate-N) in mg/L. This is due to the fact that the sensor is calibrated in an NO3-N solution and user-performed calibrations are done in that same standard.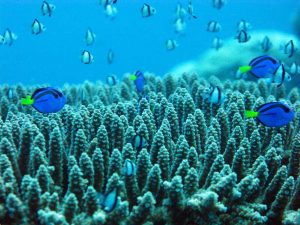 It's an open, dirty secret that the ocean is used as the ultimate sewage solution. 
 
 Each year trillions of gallons of untreated waste are sent to the ocean due to a widespread lack of sanitation technology or infrastructure that needs updating as cities and populations grow. As the impact of untreated sewage on the ocean becomes clearer, attention to the problem and strategies for dealing with it have not kept up. 
 
 "This is a massive problem and it's been largely ignored," said Stephanie Wear, senior scientist and strategy advisor for The Nature Conservancy. Wear has turned her attention to raising the alarm about the effects of sewage on coral reefs, which often loses airtime to other pressing issues like climate change and overfishing.
Read More