LI-COR LI-190R PAR Sensors
The LI-190R Quantum Sensor measures photosynthetically active radiation (PAR), which is energy that drives photosynthetic reactions in plants.
Features
Improved weather resistance and durability in long-term outdoor deployments
Uniform sensitivity to light that drives photosynthesis
Removable sensor simplifies installation and removal of the sensor
Fondriest Exclusives
Free ground shipping
Expedited repair and warranty service
Lifetime technical support
The LI‑190R uses a high-quality silicon photodiode and glass optical filters to create uniform sensitivity to light between 400 nm to 700 nm, which closely corresponds to light used by most plants. Precision optical filters block light with wavelengths beyond 700 nm, which is critical for measurements under vegetation where the ratio of infrared to visible light may be high.

Excellent cosine response provides accuracy at low solar angles. This, in combination with high resolution at low light levels, makes the LI-190R useful for determining the light compensation point in plants.
Absolute Calibration: ± 5% traceable to the U.S. National Institute of Standards and Technology (NIST)
Sensitivity: Typically 5 μA to 10 μA per 1,000 μmol s-1 m-2
Linearity: Maximum deviation of 1% up to 10,000 μmol s-1 m-2
Response Time: Less than 1μs (2 m cable terminated into a 604 Ohm load)
Temperature Dependence: ± 0.15% per °C maximum
Cosine Correction: Cosine corrected up to 82° angle of incidence
Azimuth: < ± 1% error over 360° at a 45° elevation
Tilt: No error induced from orientation
Detector: High stability silicon photovoltaic detector (blue enhanced)
Sensor Housing: Weatherproof anodized aluminum body with acrylic diffuser and stainless steel hardware; O-ring seal on the sensor base
Size: 2.36 cm diameter × 3.63 cm (0.93" × 1.43")
Weight: 24 g head; 60 g base/cable (2 m) with screws
Cable Length: 2 m, 5 m, 15 m, 50 m (6.5', 16.4', 49.2', 164')
Questions & Answers
How often do LI-COR sensors need to be recalibrated?
LI-COR recommends that light sensors be recalibrated every two years, and should be sent to LI-COR directly. This can be done year-round with all sensors except the LI-200R which can only be calibrated between March and September.
Which mV adapter is compatible with the LI-COR LI-190R-BNC sensor?
The sensor millivolt adapter (147 Ohm resistor, part #2290) is designed for use with LI-190R-BNC, LI-191R-BNC & LI-210R-BNC sensors.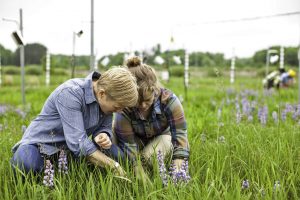 Cedar Creek Ecosystem Science Reserve is home to several very important research efforts that have made it into the history books. Cedar Creek was once the stomping ground of Raymond Lindeman, also known as "The Grandfather of Ecosystem Ecology." Cedar Creek was also the first place where automated telemetry of animals' movements was utilized. It's also home to the world's longest biodiversity experiment, the longest-running elevated CO2 experiment, one of the longest fertilization studies and one of the longest-running burn studies to maintain an oak savanna. Cedar Creek is also the global headquarters of the Nutrient Network.
Read More