LI-COR LI-210R Photometric Sensors
The LI-COR LI-210R Photometric Sensor measures illuminance in lux for indoor lighting studies.
Features
Provides a spectral response that matches the CIE curve within +/-5% with most light sources
Sensors are used to measure lighting conditions where the eye is the primary receiver
Removable sensor simplifies installation and removal of the sensor
Fondriest Exclusives
Free ground shipping
Expedited repair and warranty service
Lifetime technical support
The LI-210R Photometric Sensor measures light with the same sensitivity as a typical human eye. The photometric sensor is ideal for evaluating illumination in work areas, exhibits, interior lighting, and in public spaces.

The LI-210R measures light with a precision filtered silicon photodiode that is sensitive to light centered in the visible spectrum. It responds to light with sensitivity that is close to the human eye, as described by the International Commission on Illumination (CIE) Standard Observer Curve. Cosine corrected to 82° incident angles for accurate measurements when the light source is not directly overhead.
Absolute Calibration: ± 5% traceable to the U.S. National Institute of Standards and Technology (NIST)
Sensitivity: Typically 30 μA per 100 klux
Linearity: Maximum deviation of 1% up to 100 klux
Response Time: Less than 1 μs (2 m cable terminated into a 604 Ohm load)
Temperature Dependence: ± 0.15% per °C maximum
Cosine Correction: Cosine corrected up to 82° angle of incidence
Azimuth: < ± 1% error over 360° at 45° elevation
Tilt: No error induced from orientation
Detector: High stability silicon photovoltaic detector (blue enhanced)
Sensor Housing: Weatherproof anodized aluminum housing with acrylic diffuser and stainless steel hardware; O-ring seal on the sensor base
Size: 2.36 cm Diameter × 3.63 cm (0.93" × 1.43")
Weight: 24 g head; 60 g base/cable (2 m) with screws
Cable Length: 2 m, 5 m, 15 m, 50 m (6.5', 16.4', 49.2', 164')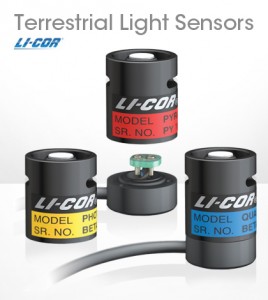 For environmental professionals looking to measure light, the sun's energy or photosynthetically active radiation, there is no better choice than LI-COR's all-new line of terrestrial light sensors. The series, including the LI-190R, LI-200R and LI-210R, has been redesigned from the ground up and is more convenient, reliable and durable than ever before. 
 
The new design centers on a modular setup that lets users detach the sensor head from the base. This makes it possible to swap out sensor heads for calibration or to measure different light parameters. In addition, it adds to project flexibility, saving users time and money.
Read More