LI-COR LI-200R Solar Radiation Sensors
The LI‑200R Pyranometer measures total solar radiation. In outdoor sky conditions, the LI‑200R performs comparably to first-class thermopile pyranometers.
Features
Weather resistant and durable in long-term outdoor deployments
Cosine corrected to 82° incident angles for accurate measurements
Detachable sensor simplifies installation and removal of sensor
Fondriest Exclusives
Free ground shipping
Expedited repair and warranty service
Lifetime technical support
The LI‑200R measures total solar radiation with an unfiltered silicon photodiode. Although the LI‑200R does not measure the total solar spectrum, its measurements correspond closely to first-class thermopiles under outdoor conditions.

The crown of the sensor rapidly sheds water, reducing pooling around the sensor. It also physically blocks light that is outside the hemisphere of sensitivity, providing precise cosine response.

Ideal for agricultural, meteorological, solar energy, and environmental research, it is available with a variety of cable lengths and output signals for compatibility with most data loggers.
Absolute Calibration: Calibrated against an Eppley Precision Spectral Pyranometer (PSP) under natural daylight conditions. Absolute uncertainty under these conditions is ±3% typical; ±5% maximum.
Sensitivity: Typically 90 μA per 1,000 W m-2
Linearity: Maximum deviation of 1% up to 3,000 W m-2
Response Time: Less than 1μs (2 m cable terminated into a 147 Ohm load)
Temperature Dependence: ± 0.15% per °C maximum
Cosine Correction: Cosine corrected up to 82° angle of incidence
Azimuth: < ± 1% error over 360° at 45° elevation
Tilt: No error induced from orientation
Detector: High stability silicon photovoltaic detector (blue enhanced)
Sensor Housing: Weatherproof anodized aluminum body with acrylic diffuser and stainless steel hardware; O-ring seal on the sensor base
Size: 2.36 cm diameter × 3.63 cm (0.93" × 1.43")
Weight: 24 g head; 60 g base and cable (2 m) with screws
Cable Length: 2 m, 5 m, 15 m, 50 m (6.5', 16.4', 49.2', 164')
Questions & Answers
Does this sensor come calibrated?
Yes. LI-COR sensors are factory-calibrated prior to shipping and will include a calibration certificate.
Will the LI-COR 2320 mV adapter work with the LI-200R-BNC-2 sensor?
No, the 2320 millivolt adapter is designed to be used with the LI-200 SMV Pyranometer and is matched to a particular sensor. These two serial numbers must match.
How often does this sensor need calibrated and can that be performed by Fondriest Environmental?
The LI-200R sensors cannot be calibrated by the user and will need to be sent back to the factory for re-calibration, about every 2 years.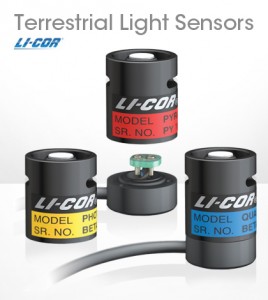 For environmental professionals looking to measure light, the sun's energy or photosynthetically active radiation, there is no better choice than LI-COR's all-new line of terrestrial light sensors. The series, including the LI-190R, LI-200R and LI-210R, has been redesigned from the ground up and is more convenient, reliable and durable than ever before. 
 
The new design centers on a modular setup that lets users detach the sensor head from the base. This makes it possible to swap out sensor heads for calibration or to measure different light parameters. In addition, it adds to project flexibility, saving users time and money.
Read More