LI-COR LI-250A Light Meter
The LI-COR LI-250A handheld light meter displays the output from any LI-CO light sensor with a BNC connector.
Features
Instantaneous sensor output or 15-second averages can be shown on the display
Calibration multipliers can be quickly entered & modified
Low power consumption gives you more than 150 hours of continuous operation
Fondriest Exclusives
Free ground shipping
Expedited repair and warranty service
Lifetime technical support
Overview
The LI-COR LI-250A Light Meter is designed for applications demanding performance, reliability and ruggedness. It provides a direct digital readout of LI-COR BNC sensors. The LI-250A's low power consumption gives more than 150 hours of continuous operation from a single 9-volt transistor battery.

Adjustable
Measurement units for any LI-COR BNC sensor (μmol, lux, klux, or W m-2) are also displayed. Calibration multipliers can be entered by simply pressing the CAL key, setting the display units (UNITS key), then changing the sensor calibration multiplier with the up and down arrow keys.
Questions & Answers
Can I use this light meter with the LI-COR LI-192 underwater PAR sensor?
Yes, the LI-COR LI-250A light meter is designed to work with any "SA" style sensor, including the LI-192SA underwater PAR sensor. An underwater cable is also required to connect the sensor to the meter.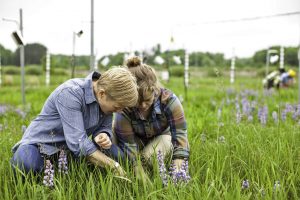 Cedar Creek Ecosystem Science Reserve is home to several very important research efforts that have made it into the history books. Cedar Creek was once the stomping ground of Raymond Lindeman, also known as "The Grandfather of Ecosystem Ecology." Cedar Creek was also the first place where automated telemetry of animals' movements was utilized. It's also home to the world's longest biodiversity experiment, the longest-running elevated CO2 experiment, one of the longest fertilization studies and one of the longest-running burn studies to maintain an oak savanna. Cedar Creek is also the global headquarters of the Nutrient Network.
Read More