The miniPAR logger is a portable, submersible instrument for measuring diffused sunlight through water, or PAR (Photosynthetically Active Radiation).
Features
Submersible up to 100 meters
PAR, orientation, and temperature sensors
Anti-fouling wiper available
Fondriest Exclusives
Expedited repair and warranty service
Lifetime technical support
Overview
The PME minPAR contains a tilt sensor to ensure proper orientation and a temperature sensor. Data is recorded on an internal SD card. The miniPAR is powered by 2 AA batteries and can be fitted with an anti-fouling miniWIPER to protect long-term data accuracy.

Measuring Photosynthetically Active Radiation
The miniPAR is fitted with an LI-192 Underwater Quantum Sensor manufactured by LI-COR. The sensor uses a silicon photodiode and glass optical filters to create a uniform sensitivity to light wavelengths in the 400-700nm range. It measures PAR from all angles in one hemisphere. PAR is a key indicator for understanding nutrient loading, photosynthesis, algae blooms, or other biological, chemical, or physical processes.

Battery Powered
PME is confident that the logger can continue collecting measurements for over one year before the batteries need to be replaced at a sampling interval of one minute. The miniPAR is constructed from strong Delrin plastic that does not easily crack or break.

Embedded Tilt Sensor
The miniPAR is unique among similar loggers in that it contains a tilt sensor to measure the orientation of the device. Since PAR measurement accuracy is dependent upon the sensor being pointed toward the water surface, the tilt sensor will alert the user if the sensor is rotated in a particular direction.

PME Software Included
PME software is provided with every miniPAR logger and can be found on the included SD card when it is connected to a computer. The software creates visual plots to read PAR measurements easily and allows the user to set the internal clock and sample rate.
Questions & Answers
Is the PME miniPAR logger compatible with the LI-COR LI-193 underwater spherical PAR sensor for unattended deployment?
No, the LI-193 is not compatible with the miniPAR logger. Typically, these sensors need to be wiped during extended deployments, making the spherical sensors impractical for those types of applications.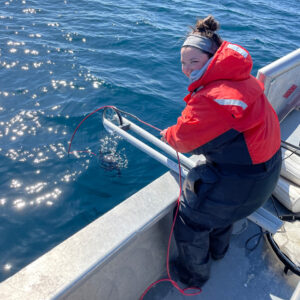 From crystal clear alpine lakes to muddy rivers and boggy swamps, water transparency is an easily observable water quality parameter to anyone who takes a few moments to peer into the (sometimes) murky depths. Water transparency varies dramatically based on the location of bodies of water among different watershed environments, but it can also change quickly due to a variety of internal and external factors. 
 
 At Miami University (OH), the Global Change Limnology Lab explores the many ways that water transparency impacts aquatic ecosystems. Operational for nearly 20 years, the lab trains undergraduate and graduate students and has conducted work from the midwest Great Lakes to Alaska, South America and New Zealand. 
 
 The Global Change Limnology Lab, headed by Dr.
Read More