LI-COR LI-192 Underwater PAR Sensor
The LI-COR LI-192 Underwater PAR Sensor accurately measures photosynthetically active radiation (PAR) in freshwater or saltwater environments.
Features
Uses computer-tailored filter glass to achieve the desired quantum response
Sensor is cosine corrected, and calibration is traceable to NIST
Features corrosion-resistant, rugged construction for use in up to 560m depths
Fondriest Exclusives
Free ground shipping
Expedited repair and warranty service
Lifetime technical support
Overview
The LI-192 Underwater Quantum Sensor measures PAR from all angles in one hemisphere. The LI-192 works in air or underwater at depths up to 560 meters. The measurements are cosine corrected and typically expressed as Photosynthetic Photon Flux Density (PPFD). For simultaneous measurements of downwelling and upwelling PAR, two sensors can be mounted on the 2009S Lowering Frame.

Measurement Principle
The LI-192 uses a silicon photodiode and a glass optical filter to create nearly uniform sensitivity to light between 400 and 700 nm, which closely corresponds to light used by most terrestrial and aquatic plants and algae. A precision optical filter blocks light with wavelengths beyond 700 nm, which is critical for measurements in a water column, where the ratio of infrared to visible light may be high.
Absolute Calibration: +/-5% in air traceable to NBS
Sensitivity: Typically 4 uA per 1000 umol s-1 m-2 in water
Linearity: Maximum deviation of 1% up to 10,000 μmol s-1 m-2
Stability:< +/-2% change over a 1 year period
Response Time: 10 us
Temperature Dependence: +/-0.15% per C maximum
Cosine Correction: Optimized for both underwater and atmospheric use
Azimuth:< +/-1% error over 360 degrees at 45 degree elevation
Detector: High stability silicon photovoltaic detector (blue enhanced)
Sensor Housing: Corrosion resistant metal with acrylic diffuser for both saltwater and freshwater applications
Waterproof: Withstands 800 psi pressure (560 meter depths)
Size: 3.18cm Dia. x 4.62cm H
Weight: 227g
Mounting: (3) 6-32 holes are tapped into the base for use with the 2009S Lowering Frame or other mounting devices
Cable: Requires 2222UWB Underwater Cable
Questions & Answers
Does this sensor include a cable?
Cables for the LI-COR Underwater PAR sensors are sold separately in lengths of 3m, 10m, 30m, 50m, and 100m. Please refer to the Accessories tab for more information.
Does this sensor come with a calibration certificate?
Yes, every LI-COR sensor ships with a factory calibration certificate.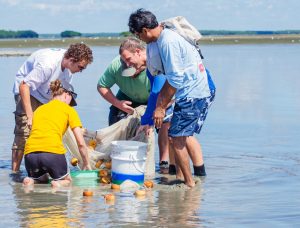 A clean environment doesn't just mean improved biodiversity and fresher air. It also means increased real estate demand. That fact was cemented in 2015 after a Florida Realtor's report tied hundreds of millions of property values to the Secchi disk depth of the surrounding water. 
 
 The report was explicit about how important the environment was and how it should be treated as such. 
 
 "Policymakers and the public would benefit from research into the possible effects of Everglades restoration on water quality in the estuaries of Martin and Lee Counties," concluded the report.
Read More