YSI Pro1020 pH & Dissolved Oxygen Meter
The YSI Pro1020 provides everything required in a handheld instrument to measure dissolved oxygen, temperature and either pH or ORP.
Features
User-replaceable cables and sensors provide versatility
Smart calibration routine allows easy calibration routines
Graphic backlit display with 50 dataset storage
Fondriest Exclusives
Free ground shipping
Expedited repair and warranty service
Lifetime technical support
Overview
The YSI Pro1020 provides everything needed in a handheld instrument to measure dissolved oxygen, temperature and either pH or ORP. User-replaceable sensors and cables (sold separately), 50 data set memory, and a convenient calibration routine makes it user-friendly. A true field instrument; Mil-spec (military spec) connectors, IP67 waterproof, rubber over-molded case, and 1-meter drop tests ensure durability to provide years of sampling even in the harshest field conditions.

Benefits
Available with 1- 4- 10- 20- and 30-m cable lengths standard (cable management kit included on all cables 4-m and longer).

Large graphic, backlit display and glow-in-the-dark keypad. Usable in any lighting condition. The display is also visible when wearing polarized sunglasses.

Tough, IP67, impact-resistant, waterproof case. Waterproof without the battery cover as well.

Multiple languages: English, Spanish, French, and Portuguese.

Choose either polarographic or galvanic DO sensors.

Quick response times; 95% DO response time is approximately 8 seconds with the standard membrane (fastest response time in the market).


3-year instrument; 2-year cable; 1-year sensor warranty (6-months Galvanic DO).
Cable Lengths: 1- 4- 10- 20- and 30-m lengths (3.28, 13.1, 32.8, 65.6, and 98.4 ft.)
Certifications: RoHS, CE, WEEE, IP-67, 1-meter drop test
Connector: MS (military spec) waterproof with bayonet lock
Data Memory: 50 data sets
Dimensions: 8.3 cm width x 21.6 cm length x 5.6 cm depth (3.25 in x 8.5 in x 2.21 in)
Languages: English, Spanish, Portuguese, French
Power: 2 alkaline C-cells providing approximately 425 hours of battery life depending without backlight usage; low battery indicator with approximately 1 hour left
Warranty: 3-year instrument; 2-year cable; 1-year most sensors; 6-month galvanic DO
Waterproof: IP67 (even with the battery cover off)
Weight with Batteries: 475 grams (1.05 lbs)
(1) YSI Pro1020 display
(1) Operations manual
(2) C-cell batteries
Questions & Answers
Is my meter waterproof?
This meter features a tough, IP67 rated, impact-resistant, waterproof case. It is even waterproof without the battery cover.
Which DO sensor should I use?
The Pro1020 is compatible with the both polarographic and galvanic dissolved oxygen sensors. The galvanic DO sensor offers immediate readings with no warm-up time. The polarographic sensor requires a short warm-up time, but it has a longer usable life than the galvanic DO sensor.
Does the YSI Pro1020 meter measure temperature as well as pH and dissolved oxygen?
Yes, the temperature sensor is integrated with the cable assembly for the YSI Pro1020 meter and is a thermistor style probe, located next to the sensor ports.
Is the YSI Pro1020 pH and dissolved oxygen meter able to calibrate the pH sensor using a 3-point calibration?
Yes. The pH probe can be calibrated using a 1, 2 or 3-point calibration. More information on page 22 of the manual https://www.fondriest.com/pdf/ysi_pro1020_manual.pdf
How often does the YSI Pro1020 meter need to be calibrated?
The pH calibration should be verified every day the instrument is used. However, a new pH sensor may be capable of holding its calibration for several days. The dissolved oxygen sensor should be calibrated every day the instrument is used. The temperature sensor cannot be calibrated nor should calibration be required.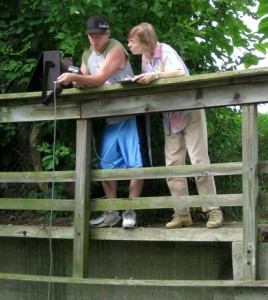 Watershed protection groups across the country are collecting water quality data on waterways that might otherwise miss out on monitoring entirely. Some have found that, despite small staffs, they can compile more high-quality data by putting water quality sensors and other professional scientific instruments in the hands of volunteers. 
 
For organizations like the Santa Barbara Channelkeeper, the reasoning for equipping volunteers with electronic handheld meters is clear: 
 
"We really want the data that we're collecting to be utilized," said Ben Pitterle, director of the group's watershed and marine program.
Read More