Designed for use with any single ProDSS Digital Smart Sensor, ProSwap Logger is cost-effective and customizable water quality and level monitoring solution.
Features
User-replaceable water quality sensors alongside built-in temperature and depth
Smart sensor technology with on-board monitoring for improved calibration and performance
Titanium housing and waterproof connectors guarantee operation well into the future
Fondriest Exclusives
Free ground shipping
Expedited repair and warranty service
Lifetime technical support
Monitoring Made Simple
ProSwap Logger features a universal port for a wide variety of real-time monitoring applications. Combine any digital smart sensor with the built-in temperature and depth sensors for more comprehensive measurements in a slim profiling package. Build a dedicated system for conductivity, dissolved oxygen, pH, turbidity, or algae monitoring applications with unique customization options.

Continuous Unattended Logging
Ideal for short- and long-term deployments, the on-board memory is capable of holding over 100,000 data sets. With ProSwap Logger, you can view trends in water quality over extended periods of time for a true representation of the ecosystem.

Flexible Deployment
ProSwap Logger is a powerful instrument in a small package. Suspend in groundwater wells, deployment pipes, and other tight or shallow spaces. A variety of power and deployment options are available to fit the needs of your system.

Reliable Connection
An integral cable allows for easy topside communication and data download without removing the sonde from its deployment location. A twist-lock connector provides quick and reliable communication via a dedicated handheld or Kor Software. With convenient options for calibration, deployment setup, and data collection, ProSwap Logger makes it easier than ever to effectively expand you smart watershed.

Digital Smart Sensors
ProSwap Logger is compatible with any individual ProDSS Digital Smart Sensor for fast, easy setup and high quality data. Each sensor features a welded titanium body, auto-recognition, and local storage of calibration for quick swapping. Trusted by water quality professionals, these sensors provide accurate data with advanced technology and proven performance!
Material
512 MB, >100,000 data sets
(includes date, time, site, parameters)
Software

Kor Software

Communications
Sonde: YSIP, SDI-12, Modbus*
Adapters: USB, Flying-Lead
Power

External Powering: 5.4 - 16V
External Charging: 9 - 16V
Internal: Rechargable Li-Ion Battery

Operating Temp.

-5 to 50°C (23 to 122°F)

Storage Temperature
-20 to 50°C (-4 to 122°F)

Depth Rating

0 to 100 m (0 to 328')

Battery Life

≥ 90 days at 15 min log interval

Sampling Rate
1 per second (fastest) to 1 per day (slowest)
Diameter
2.65 cm (1.05")
Length (with guard) without Battery
49.70 cm (19.57")
Length (with guard) with Battery
57.35 cm (22.58")
Sonde Weight** with Battery

0.57 kg (1.25 lbs)

Sonde Weight** without Battery
0.45 kg (0.99 lbs)
Warranty

2 Years
*Modbus output configurable with post-launch update
**Total weight will depend on cable length
ProSwap Logger with Integrated Cable
Probe Guard
Weight (for Probe Guard)
Storage Sleeve
Sponge
Graduated Cylinder
USB Drive (contains Kor Software)
Cable Connector Cap
Cable Grip Kit
Cable Management Kit (4m, 10m, 20m) or Cable Spool (30m+)
Maintenance Kit
Desiccant Kit (Vented units ONLY)
Questions & Answers
What's the approximate battery life of the ProSwap Logger with internal Li-ion battery?
The internal battery life is estimated at greater than 90 days at a 15-minute log interval.
Can the ProSwap Logger be used with the ProSwap handheld display?
Yes, the ProSwap handheld display is fully compatible with the ProSwap Logger. This offers the ability to switch between spot sampling and unattended time-series deployments using the same instrument.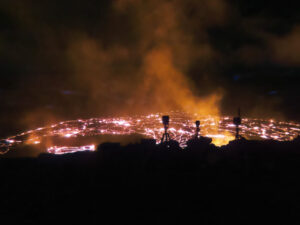 The eight main Hawaiian Islands are made up of 15 volcanoes, six of which are active as of 2023 . Many locals live on or near an active volcano, making the monitoring and understanding of volcanic activity a core issue of public safety on the islands. Organizations like the Hawaiian Volcano Observatory (HVO) have spent decades monitoring the islands' volcanoes to protect the public, develop a deeper understanding of the islands' volcanos and forecast eruptions whenever possible. 
 
Even those who live away from edifices like Mauna Loa often have connections to the people living near the volcano.
Read More