YSI ProQuatro Multi-Parameter Water Quality Meter
The YSI ProQuatro meter measures (sensors sold separately) combinations of DO, conductivity, specific conductance, salinity, resistivity, TDS, pH, ORP, ammonium, nitrate, chloride and temperature.
Features
User-replaceable cables and sensors (not included with meter purchase)
Real-time salinity compensation of DO measurements
Built-in micro USB port for easy data transfer to flash drive
Fondriest Exclusives
Free ground shipping
Expedited repair and warranty service
Lifetime technical support
Overview
The YSI ProQuatro, along with its Quatro cable, allows the use of 4-ports to measure temperature/conductivity, DO, and any two ISEs among pH, ORP, ammonium, chloride, or nitrate creating an extremely powerful handheld multiparameter instrument. Sensors are not included in meter purchases.

Versatile
Connect any Professional Series cable and probe option to the instrument and use the convenient cable management kit to keep everything simple and organized. Cable options range from 1-, 4-, 10-, 20-, and 30-meter choices (up to 100-meters on DO-only cables). Use lab or field probes and switch between the two quickly. The ProQuatro makes an ideal lab BOD instrument with the proven self-stirring BOD probe (EPA Approved). A complete family of accessories also increases the versatility of the YSI ProQuatro. Choose among accessories including carrying cases, flow cells, cable weight, belt clip, tripod, and c-clamp.

Field Durable Features
Easy-to-install cable weights; can be daisy-chained for additional weight

Rubber, over-molded IP-67 waterproof case (even without the battery cover)

3-year instrument warranty

2-year cable warranty

Rugged cables, sensors, and military-spec connectors

Drop-tested 1 meter at all angles

Scratch-resistant lens; viewable even with polarized glasses

Instrument floats


Weighted, user-replaceable multi-sensor design
Smart Features
5,000 data set memory

Detailed on-screen Help function

Interval or single-event logging

50 Data IDs*

Password protection

Detailed GLP data

USB connection also powers the instrument


6-point cal with auto-buffer recognition
Barometer

Range: 375 to 825 mmHg

Accuracy: ±1.5 mmHg from 0 to 50 °C

Resolution: 0.1 mmHg

Cable Options
Standard lengths of 1, 4, 10, 20 or 30 meters with single port, dual port or Quatro cables, Lab Cables: BOD sensor includes 2-meter cable; 1 or 4 meters on lab pH, ORP and pH/ORP cables
Certifications
RoHS, CE, FCC
Country of Origin
Assembled in the USA
Display

Backlit, graphic display

Languages
English, Spanish, German, French, Italian, Norwegian, Portuguese, Japanese, Chinese (Simplified and Traditional)
Logging Capabilities
Single point or continuous with autostable feature
Memory
5000 datasets; 50 unique data identifiers
Operating Temperature
-10 to 60 °C
Power
2 alkaline C-cells provide 80 continuous hours at ambient temperature without backlight; USB power or optional wall power can be supplied via micro USB port
Response Time
2.0 mil PE = 17 seconds and 3 in/sec flow, 1.25 mil PE = 8 seconds and 6 in/sec flow, 1 mil Teflon® = 18 seconds and 12 in/sec flow
Size

8.3 cm width x 21.6 cm length x 2.3 cm depth

(3.25 in. x 8.5 in. x 2.25 in.)

Storage Temperature
-20 to 70 °C
USB
Built-in micro USB port for on-the-go data exports via direct connection to the included USB stick ; user-upgradeable firmware via USB and website
Warranty

3-year instrument; 2-year cable

Waterproof
IP-67 (even with battery cover off); floats
Weight
475 grams (1.05 lbs.) with batteries
(1) ProQuatro multi-parameter instrument
(1) USB cable
(1) USB flash drive
(2) C-cell batteries
(1) Operations manual
Questions & Answers
Will the ProQuatro work with the older Quatro cable assemblies that shipped with the Pro Plus meters?
Yes, the ProQuatro meter is compatible with all Quatro cable assemblies regardless of when they were manufactured. It is also compatible with the Pro10, Pro20, Pro30, Pro1020, Pro1030, and Pro2030 cable assemblies.
The ProQuatro meter is reading "Probe Temp under range". What can I do to troubleshoot?
First, check the cable connection and ensure the temperature sensor is clean. If that does not resolve the issue, contact the Fondriest Repair department customercare@fondriest.com
Does any conductivity standard come with the 5560 temp/conductivity probe?
The 5560 temperature and conductivity probe for the YSI ProQuatro does not include any calibration solutions, these will need to be purchased seperately.
Can YSI meters and probes be recycled?
Yes, YSI has a recycling program for old equipment. Find it here: https://www.ysi.com/customer-support/recycling-disposal
It says that the DO sensor needs to be setup on the ProQuatro meter before calibration, what does that include?
The dissolved oxygen probe set-up for the ProQuatro includes setting the sensor to 'enabled' on the meter as well as selecting the type of probe that is being installed (polarographic, galvanic).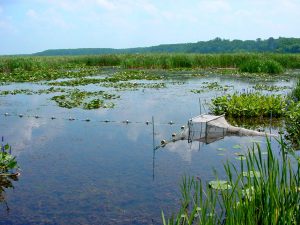 The public knows much more about Great Lakes coastal wetlands than it did ten years ago. 
 
 In those ten years, the information gathered through the Great Lakes Coastal Wetlands Monitoring Program has led to and supported dozens of advances in Great Lakes science while helping nail down the shifting nature of ecosystem health for a vital part of the Great Lakes system. 
 
 "I probably get one or two requests for information a week," Don Uzarski, director of the program, told Environmental Monitor. 
 
 The program's most recent semi-annual report lists 40 scientific publications using the collected data. In addition, the data has been used in even more restoration projects, graduate theses and presentations.
Read More